I meant to post the other day, but I was in a food coma. Sorry.
This year has been a very difficult one, for writing, for living, we made a major move, have had some fairly serious situations come, then go. I'm thankful for the fact that we have overcome most of those and have moved forward with getting ourselves established. Writing had been in fits and starts, and pubbing this year has not been my priority.
There's always next year, right? I am working on a 2013 business plan, figuring out a pubbing and writing schedule and…and….re-do covers and…
yeah, lots to do.
ohoh, the Forward Motion Anthology is out now. I do have a story in it, which is humbling because there is some really awesome writing included.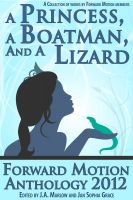 17 authors, 17 different stories, and one prompt.
A Princess, A Boatman, and A Lizard…
Seventeen authors took up the challenge and responded with works ranging from silly to dramatic across genres such as fairy tale, steampunk, science fiction, fantasy, Native American tales and more.
The 2012 Forward Motion Writer's Anthology is an annual showcase of the multi-national writing talent at the venerable writer's group. The 2012 edition includes an active table of contents with works by:
Princess Of The Mountain Forests – Susan Petroulas
Soul of Insurgence – A. Shelton
That Troublesome Bar – Gera L. Dean
A Present For Cynthia – S.E. Batt
The Warning – C. M. Clark
Convoy – Val Griswold-Ford
The Terrible Bedtime Story – Tobe Ornot
The Prince of the North – A.J. DeVial
The Adventures of Orville Bramson Esq – Catrin Pitt
Freedom of Wings – Jordan Lark
Predators – Jim Francis
Drought's End – Connie Cockrell
The Dancing Moons – Lane Decker Davis
Bowl the Lizard – J.A. Marlow
The River Of Souls – Necia Phoenix
Six Bullets – Linda Adams
The Princess, the Lizard and the Boatman – Lazette Gifford
I'm still reading through it, I haven't been disappointed. These are some great authors and it is an honor to be listed among them. It is available at;